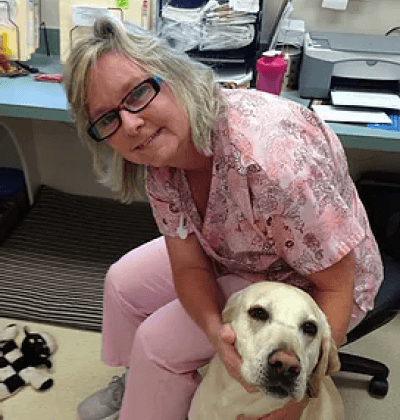 Penny, LVT
Penny has been with JIVH for over 30 years and is one of our fabulous Licensed Veterinary Technicians (LVTs). She was born in New York but has called Charleston, SC home since the age of 2. She attended Abraham Baldwin Agricultural College to earn her Associate's Degree in Veterinary Technology. Her 30 years of experience puts all of us at ease that our loved ones are in good hands.
Penny wears many hats at JIVH with one of her primary roles being lead surgery technician, caring for her patients' every need intra and post-operatively. She is proud of the way our entire team strives to provide the absolute best of care for each and every patient and client. After years of experience, she still says the best thing about her job is seeing a pet going home well after coming in for being sick or hurt. She hopes our clients know how much we care for their pets and that we truly treat each of them like our own.
When Penny is not caring for your family members at JIVH, she can be found spending time watching her kids, Ben and Sarah, play sports and watching baseball with her husband, Kelly. Her family also includes a beautiful yellow lab, Maelee, and a beautiful cat named Lil Cricket.