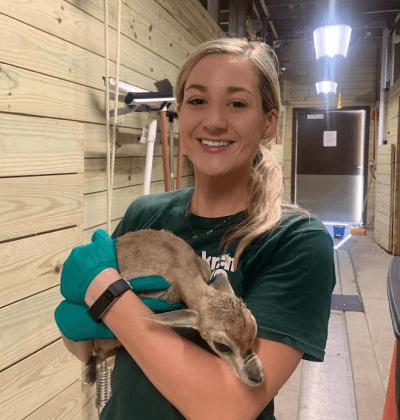 Erin
Erin graduated from Miami University in 2017 with a bachelor's degree in Zoology and minor in Nutrition and Health sciences, where she began pursuing a career in animal care at various zoological settings. Erin initially focused on aquatics and marine mammal rehabilitation working primarily with West Indian manatees. After graduating, Erin cared for large carnivores at a Global Federation of Animal Sanctuaries accredited organization in Arkansas in which she aided in rehabilitating exotic animals rescued from private ownership or from neglectful facilities.
Erin then moved to Cleveland, Ohio where she worked at the Cleveland Metroparks Zoo and the Akron Zoo as an animal care professional. At Cleveland Metroparks Zoo, Erin worked mainly with Western Lowland gorillas and various smaller primate species. At the Akron Zoo, Erin worked with North American river otters, then transitioned to avian and aquatic animal care.
Erin then became the principal keeper of gibbons and tamarins at the Akron Zoo where she focused on training her animals voluntary and complex behaviors for valuable medical procedures. Erin was successful in training and implementing behaviors such as ultrasound, blood draw and shoulder injection. The implementation of these behaviors allowed Erin and her team to successfully manage the birth of a Northern white cheeked gibbon infant, a species that is critically endangered.
Erin has always had an affinity for veterinary medicine and decided to adjust her career path to focus on the medical side of animal care. Erin moved to Charleston in July of 2022 and joined our team as one of our amazing Veterinary Technicians! Erin loves giving owner's advice about behavioral issues, tips on training, as well as getting to know clients and patients like family!
In her personal life, Erin is thrilled to be in Charleston and loves exploring her new city, checking out local restaurants, and is currently learning how to surf! She enjoys reading on the beach, painting and spending time with her significant other and their dog, Maverick.