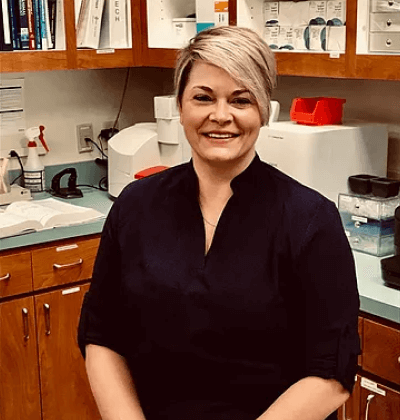 ​Dr. Sprovero joined our JIVH family in 2019 but FUN FACT: Dr. Sprovero worked with JIVH from 2008-2010 before pursuing a career in emergency medicine for a while.
Dr. Sprovero has a very full 2-legged family: husband Jamie, and sons Grey (12) and Reeves (10) and an even bigger 4-legged family: 3 dogs (Agnes, Hank, and Neville) and 2 cats (Dobby and Hemingway).
Dr. Sprovero adores all aspects of vet med but especially wound care/management and gastrointestinal disease. And while she loved the challenges and quick thinking required in emergency medicine, she is looking forward to establishing lasting bonds with all of her patients in family practice.
When not caring for your fur babies, you can find Dr. Sprovero enjoying the beach, reading (preferably while ON the beach), and spending time keeping up with her boys in their various sports and activities.