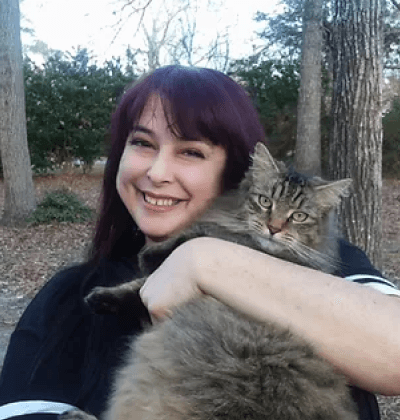 Cassandra, LVT
Cassandra joined us in December of 2019. She has a Bachelor's degree in Sociology from the College of Charleston, but in 2018 decided to return to school to pursue her passion for animals and as of 2020, obtained her degree in veterinary technology. 
Cassandra is originally from West Virginia, where she grew up around many animals, large and small. Presently, she has four cats, Blaze, Buffy, Zoot, and Pippen. She has also shared her home with a variety of animals over the years, including dogs, turtles, rabbits, and ferrets. 
When not at work or in school, she enjoys all things fantasy and horror related, so can often be found just reading or watching movies at home with her feline friends. She also loves to travel and visit new places, preferably off the beaten path. One of her favorite hobbies is cooking, and she also enjoys supporting the local art and live music scene.