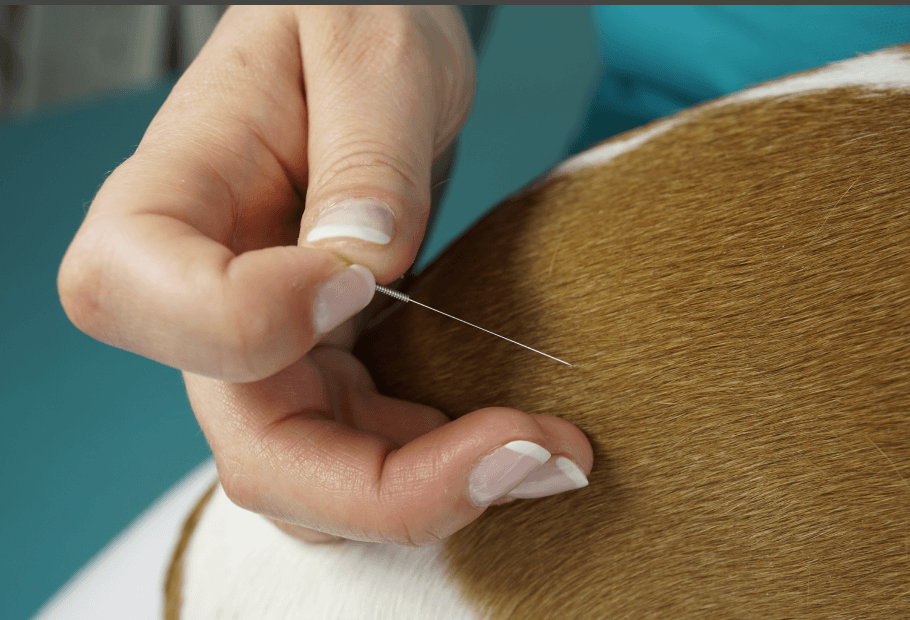 Acupuncture
We are thrilled to be offering acupuncture and Traditional Chinese Veterinary Medicine (TCVM) as part of an integrative approach in managing your pet's overall health for a limited time. This service provides a way for us to better diagnose and treat a wide array of issues and improve patient's overall health and wellbeing.
What is acupuncture and Traditional Chinese Veterinary Medicine?
Acupuncture (AP) is the use of small needles to stimulate local points throughout the body, termed acupoints. Acupoints sit in close proximity to nerve endings, muscle fibers, blood vessels, and lymphatics. These points stimulate the nervous system to produce a therapeutic response. There are 173 acupoints in animals. While dry needling is the mainstay of acupuncture, other modalities such as electropuncture and moxibustion, may be incorporated in your pet's treatment plan depending on disease process. Traditional Chinese Veterinary Medicine combines the use of acupuncture with herbal and food therapy, and Tui-na (massage) to boost pet patient quality of life.
What conditions can be treated with acupuncture?
The short answer is quite a lot! While acupuncture can be used as sole therapy for some conditions, it is often used as a complement to traditional therapies. Acupuncture has been proven effective in treatment of the following:
· Musculoskeletal disease
· Gastrointestinal disease
· Respiratory disease
· Endocrine/metabolic disorders
· Dermatologic disease
· Neurological disease
What can I expect during my visits and in my pet undergoing acupuncture treatment?
Great question! A question many pet parents have is, will it hurt? The good news is that a majority of animals will not experience any discomfort! In fact, many patients will experience just the opposite. Acupuncture will often release hormones such as endorphins ("the good feels") and cortisol leading to relaxation. While some patients may achieve significant improvement or resolution after a single treatment, most patients will require 3-5 sessions scheduled a few weeks apart in order to resolve the problem or observe notable improvement. Acupuncture sessions usually range from 15 to 45 minutes depending on your pet's condition and constitution (personality).